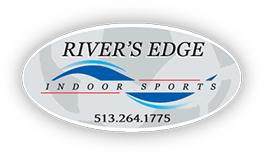 party packages
---
Call 513.264.1775 with questions or to book your event!
---
Team Parties
Sports Banquets
Birthday Parties
Graduations
Reunions
Overnights
Lock-ins
Showers
After Prom Parties
And Much More!
Bring your next team party or event to River's Edge! We can accommodate any group size from your team to your entire organization... up to 520 people! Call us to custom-tailor a party package to fit both your group's needs and budget. So, if you are at a loss as to where to hold your next group event, then look no further:
Bring Your Group to the Edge!
OPTION 1 $195 Boarded Field - Up to 12 People
1 hour of field time
1 hour in concession area or mezzanine
4 pitchers of soda (24 servings)
Ice cream treats (1 per guest)
Additional Guests are $8 each
Upgrades:
Move the party to unboarded field - add $20
Large pizzas (1 topping) available for $12 each
Additional pitchers of soda for $7 each
OPTION 2 $215 Boarded Field - Up to 18 People
1 hour of field time
1 hour in concession area or mezzanine
6 pitchers of soda (36 servings)
Ice cream treats (1 per guest)
Additional Guests are $8 each
Upgrades:
Move the party to unboarded field - add $20
Large pizzas (1 topping) available for $12 each
Additional pitchers of soda for $7 each
OPTION 3 $235 Boarded Field - Up to 24 People
1 hour of field time
1 hour in concession area or mezzanine
8 pitchers of soda (48 servings)
Ice cream treats (1 per guest)
Additional Guests are $8 each
Upgrades:
Move the party to unboarded field - add $20
Large pizzas (1 topping) available for $12 each
Additional pitchers of soda for $7 each
Note:
Additional "hour of field time" available for $110 (boarded) & $125 (unboarded)
Adult beverages available for sale at concessions
Deposit required at time of reservation
Guests may bring birthday cake, water bottle, soccer balls, nerf balls, wiffle bat/ball and frisbee